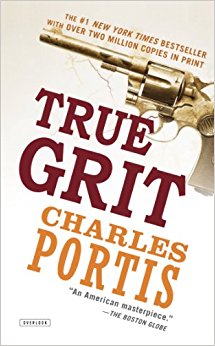 Waukesha Reads will feature True Grit, one of the great American Western novels, as our 2017 NEA Big Read title! True Grit by Charles Portis was published in 1968 and tells the story of a woman named Mattie Ross, who recounts the time when she was a young girl and sought retribution for the murder of her father. The rousing adventure story inspired two award-winning films, but on the page, readers will discover the rich humor, inventive prose, and compelling characters that have made the book a masterpiece of American storytelling.
Storyline
After an outlaw named Tom Chaney murders her father, feisty 14-year-old farm girl Mattie Ross hires Rooster Cogburn, a cranky, trigger-happy U.S. Marshal, to help her find Chaney and avenge her father. The unlikely duo is not alone in their quest. A Texas Ranger named LaBoeuf is also tracking Chaney for reasons of his own. Together the improbable trio ventures into hostile territory to dispense some Old West justice.
Join us September 12 – November 4 for an exciting calendar of events, programs and discussions!
Newsletter Signup
Sign up for the Waukesha Public Library newsletter so you don't miss a single event!