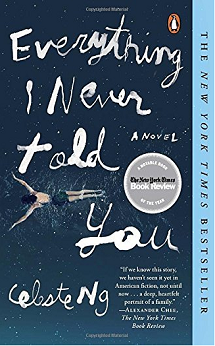 Which book will we be reading this year?
Waukesha Reads is pleased to announce that we will be featuring  Everything I Never Told You by Celeste Ng as our 2018 NEA Big Read title!
(Click HERE for the NEA's online Reader Resources.)
Storyline
In a small town in Ohio in 1977, the oldest daughter and favorite child of a biracial couple — her mother is white, her father is Chinese-American — is found drowned in a lake. As her parents and siblings struggle to solve the mystery of her death, a web of family secrets emerges to reveal how fragile the relationships between husband and wife, parent and child, and brother and sister can be when ambitions are thwarted, societal pressures mount, and fears and desires are kept buried. Celeste Ng's debut novel Everything I Never Told You alternates between past and present and is told from the various perspectives of each grieving member of the family, all of whom come to realize in their own way how little they knew about the people they thought they knew best.
Awards
National Endowment for the Arts creative writing fellow Celeste Ng knocked it out of the park with her debut novel, Everything I Never Told You, which was a New York Times Book Review Editor's Choice and Amazon #1 Best Book of 2014; winner of the American Library Association's Alex Award and the Asian/Pacific American Award for Fiction; and named a best book of the year by more than a dozen publications, including National Public Radio, Entertainment Weekly, School Library Journal, and The Huffington Post. The story explores "alienation, achievement, race, gender, family, and identity" (amazon.com). The New York Times Book Review wrote: "If we know this story, we haven't seen it yet in American fiction, not until now."
(National Endowment for the Arts / arts.gov)
Newsletter Signup
Sign up for the Waukesha Public Library newsletter so you don't miss a single event!