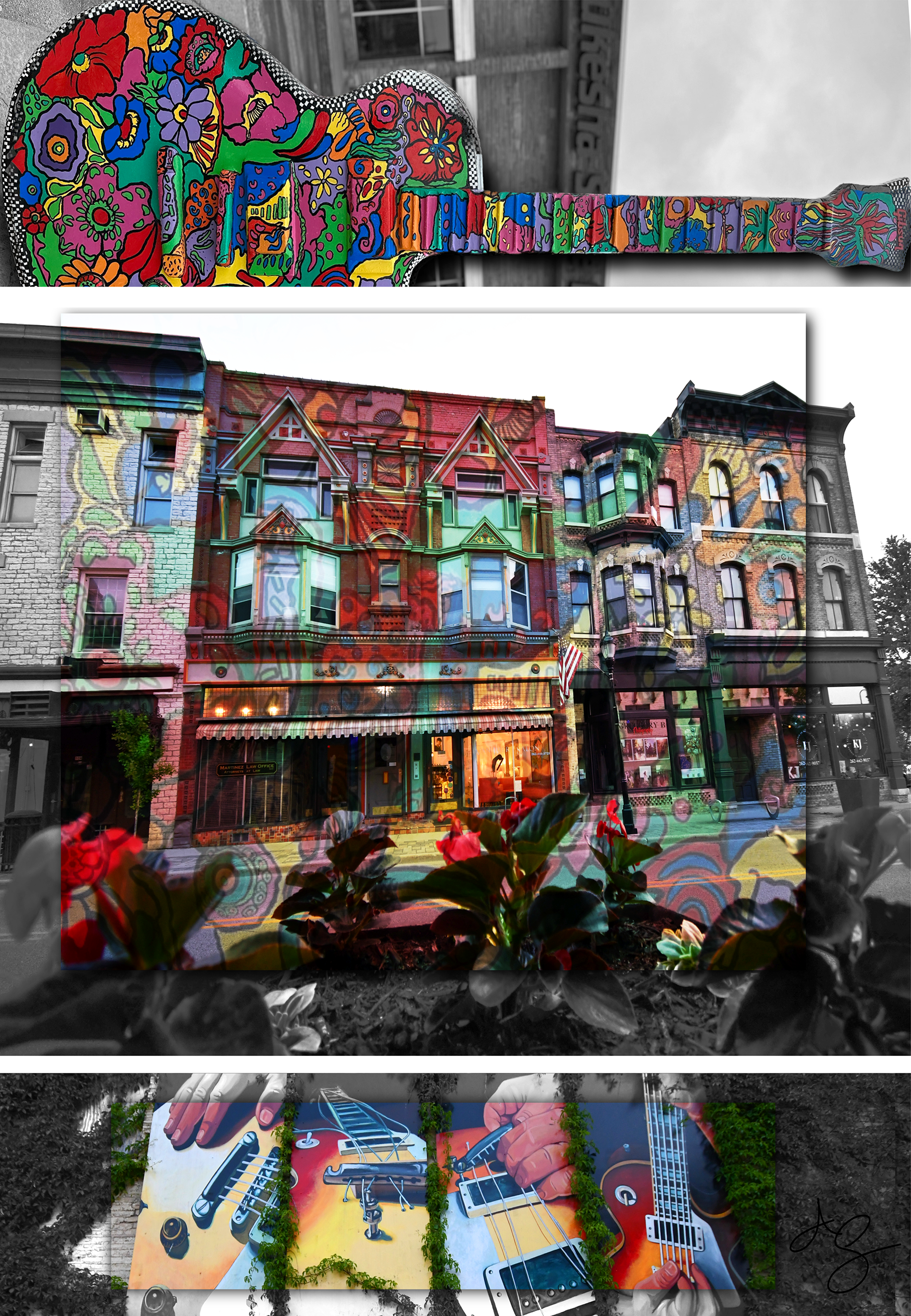 Music and Memories
By Anna Grosch
Artwork inspired by Nickolas Butler's book, Shotgun Lovesongs.
About the Artist
At its most basic core, I believe to create a work of art means unfolding a process of circumstance. At any specific given moment in time, we see the world in a vividly detailed and particular light. The histories, experiences and memories we bring to that moment, shape our perception. We make art to connect with the issues of life, in that moment and going forward. That moment defined by place and time, elements and forces, is suspended in our memory. As we mature, the perspective of past memory evolves, as we ourselves grow and change. Change can be so constant, that we wake up one day and do not even realize life is better or worse off than before. Change can also happen in an instant, a life-altering thing can make you different entirely and forever. I create to capture these ideas.
I have always been fascinated with how art can positively enhance people's everyday life; it is restorative— viewing it, making it, engaging with it. Art—as a passion—began for me in middle school and continued through all the phases of my life. It is a grounding force that always pulls at me. I attended the University of Wisconsin—Milwaukee and obtained a degree in Architectural Studies, along with Communities and Cultures. The rigorous design school, enhanced my ability to capture the essence of space through perspective, lighting, and color palette. Communities and cultures studies opened my eyes to the importance of encountering and accompanying peoples who are unfamiliar or different than ourselves– both near and far–but with whom we can have deep connections and find solidarity with, and so my love of travel grew, exploring the local and distant places and meeting people along the way. I am an artist, photographer and world traveler whose images are a layered new perspective of familiar places near and far.
I am also an art educator with a strong background in community-based curriculum and an affinity for urban education and social justice work at the Lynden Sculpture Garden where I manage partnerships with schools and nonprofits; I work directly with teachers at Lynden and also in their classrooms. I graduated from the University of Wisconsin-Milwaukee with a Master of Science in Art Education and my research focuses on community-based art education, museum education, and place-based learning.
Artist Website
https://agart.weebly.com
About the Artwork
The artwork is inspired by the book, Shotgun Lovesongs by Nickolas Butler and downtown Waukesha as a Les Paul Guitar Town. The framed photograph includes a montage of three main images: a guitar, Clinton Street shops of Waukesha, and one of the public murals that can be found in downtown Waukesha. There are various parallels between the musical themes and its characters within the book to Waukesha as a Guitar Town. I showcased an image of the streets of Waukesha in the center overlayed with the patterns and colors from the public art guitars around downtown as a metaphor. The book is a love letter to Wisconsin, and I believe images of the streets of downtown Waukesha are, of course, quintessential main street Wisconsin. The multiple views of Waukesha compliment one another in a balanced way.
I utilize my signature layered style (mounting colored version of the image on top of black and white version of the image). All of the colored portions of the image are mounted with a 3-dimensional effect to give the images additional focus and depth. I photograph, mount and frame all the images myself– as part of a personal, hands-on creative process.